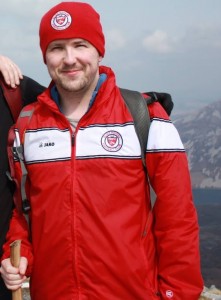 Aengus is a Sligo man. He went to secondary school in Ballymote and then had a year and a half holiday in Maynooth, before returning home to complete a degree in Web Development at IT Sligo. After this he was lucky enough to get a job in Lionbridge in Ballina, Co.Mayo where he has worked and lived since 2006.
Away from work, Aengus's days were filled with work and football. He enjoyed the usual few pints with friends and interests like sport, poker, quizzes, music and amateur dramatics. His proudest achievements include taking a lead role in William Gaule's Knockdoubt and numerous other roles. Aengus remains a keen Sligo Rovers fan and looks forward to his return to the showgrounds. He has helped update the website for some years and setup the Sligo Rovers twitter account.
In the last couple of years Aengus started playing indoor and astroturf football. He found this great for fitness and general enjoyment. It was at an indoor game in Sligo where the accident occurred.
On the 16th February 2014 Aengus went to play a game of indoor football. It was an average Sunday afternoon. Minutes into the first half, Aengus's life changed forever. He slipped and hit his head against the wall and snapped his spinal cord. Aengus suffered cardiac arrest. One of his team mates brought him back. Aengus was transferred from Sligo General to the Mater Hospital Dublin. He is at present in the Spinal Unit. He has a spinal cord injury and is paralysed from the neck down.
Aengus still loves his football, only now he follows his favourite teams from hospital, as his life is suddenly limited. He is ventilator dependent. On Tuesday, March 3rd 2015, Aengus underwent surgery in the Mater which hopefully will result in him being able to breathe independently and then move to the National Rehabilitation Hospital, Dun Laoghaire.
Please support our efforts to raise funds for the numerous changes that will be necessary to ensure Aengus can live as full a life as possible as he may never walk again.
To support, click on the following link.
DONATE