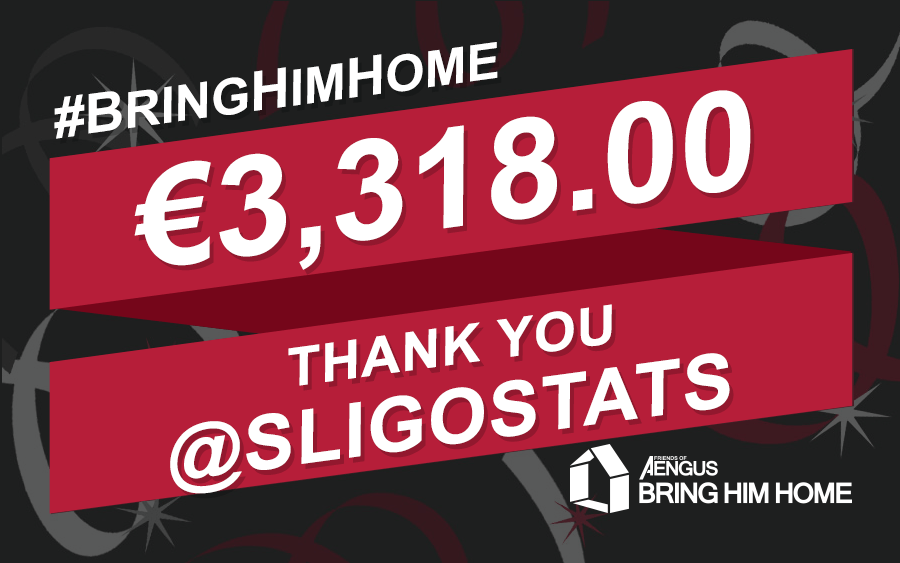 @SligoStats Poster – SOLD OUT
UPDATE 15/01/2019
All posters SOLD OUT quickly, so much so that SligoStats put on another print run in late December 2018 to accommodate everyone who wanted one.
We are delighted to announce that SligoStats raised a MASSIVE €3,318.00 for our friend Aengus' #BringHimHome campaign.
Please show SligoStats your support and follow them on Twitter.
If you'd like to donate, please visit: https://www.friendsofaengus.com/donate/
---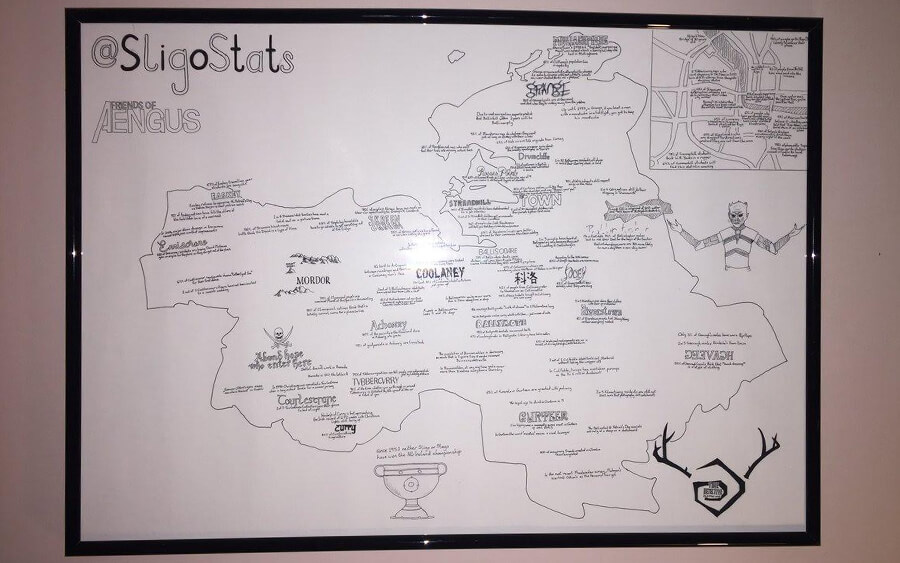 Where to buy
The posters are available to buy for €12 at Martin Reilly Motors in Carraroe, the BTW showroom in Finisklin and Eason's on O'Connell Street, Sligo. Please buy more than the one if you can – friends and family living abroad would love one; we are absolutely sure of this.
The Story behind the poster
In early 2014, @SligoStats was set up. One of the main reasons was to highlight the character and humour that this beautiful county contained. This was originally a short-term project that would provide a few laughs and help us actually avoid doing real work. However, numerous occurrences and general mood swings helped us keep it going for much longer. It was generally felt that it was all in good fun and hopefully no feelings were hurt.
Due to a crackdown on statistical information being leaked to us, it was inevitable that our project would finish up so we haphazardly planned a 2015 calendar to highlight the county's intricacies, but also to help raise much needed funds for the Sligo Cancer Support Centre.
Alas, in 2015 @SligoStats disappeared off the scene. This was not a result of burn-out or an unwillingness to gather vital statistical information. It was a result of that plane in Enniscrone. We here @SligoStats lauded the story of David McGowan and his eccentric endeavour, and therefore felt a stat was required to reflect the left-field plan to move a decommissioned Boeing 767 from Shannon to an in-development 'glamping' site in Enniscrone. The stat did not go down well with a few Enniscrone inhabitants, however. Twitter received complaints and @SligoStats was shut down. It's better to burn out than fade away, we supposed.
What was the stat in question, you ask? Please read to the end and all will be revealed.
With an abundance of new surveys and statistical information piling up on the desk of our small office, we had no choice but to resurrect @SligoStats in 2018. Again, it's been great fun and we really hope no one (in Enniscrone) takes any offence. We try to spread the statistics evenly.
So let's get down to it – our annual fundraiser that happens every four years. It's like the World Cup for raising money for causes that we feel strongly about. This year there was only ever going to be one winner: to raise some much needed money for Aengus Lyons. You can read all about Aengus' story and support him directly through https://www.friendsofaengus.com/.
@SligoStats would like to explain why we wanted to get the poster out in time for Aengus this year. We are 100% delighted to be associated with Friends Of Aengus, and are honoured that all the money raised will go to Aengus. However, we would like to explain where we are coming from here, and shed some light on our take of Aengus' story from a fellow Sligonian point of view. Hopefully we capture just a small fraction of the man and his story in the following paragraphs:
As sarcastic and cynical as we can be here @SligoStats, Aengus' story stopped us in our tracks. The fact is, we are all fond of a happy ending and we are a sentimental bunch at heart here in the office. There could not be a happier ending to 2018 if Sligo Stats helped share a bit of laugher around with our world famous poster; the real joy being that each poster bought brings Aengus a brick closer to making it home.
Imagine a regular Sunday evening where you leave your home, and you go and play a game of indoor football with a bunch of mates. Now, imagine – over 4 years later – you still haven't made it home from that kickabout. You've had a severe accident playing in this game of football resulting in a serious spinal injury, and, in order for you to be able to move back home, some serious renovations need to be completed.
This is a very rough version of Aengus' story. Sligo Stats are attempting to play a small part in trying to get Aengus home. Please get on board with us by buying our @SligoStats poster and telling others to do the same.
Aengus is just like a rake of Sligo lads you know. He loves the Rovers. He loves his films, TV shows and theatre. He loves his family and friends. He's a sound skin. All this quiet man is hoping to do is to make it home. Imagine you went out one evening to play a game of 5-a-side and, four years later, you still haven't returned home.
People love stories. People especially love local stories that are about real people. By buying our poster, you could help shape the end of this Sligonian story for the better. Please take part in making the ending to this story a happy one, while also spreading some serious laughter about the place this Christmas. We would humbly suggest 100% of most Sligonians would pay three times what we are asking here to help our friend to make it home. As is, the real ask is that you find the time to buy our classic stocking-filler poster, and we guarantee that we will put all the funds together to help Aengus Lyons to finally make it home.
We would like to sincerely thank everyone for their support and positivity over the year, it was great fun. If you enjoyed any of the stats, could we ask you to spread the word about the poster? The posters are available to buy for €12 at Martin Reilly Motors in Carraroe, the BTW showroom in Finisklin, and also in Eason's on O'Connell Street. Please buy more than the one if you can – friends and family living abroad would love one; we are absolutely sure of this.
Oh, yeah – the Enniscrone stat that brought one or two keyboard warriors out of their caves in 2015? Here it is: "90% of Enniscrone inhabitants are devastated that plane isn't there to rescue them". We've heard there is a family of five still queuing up outside its door.
Thanking you all in advance for purchasing the posters, and wishing everyone a very Merry Christmas from @SligoStats, even Ballymote.
Stats all for now!