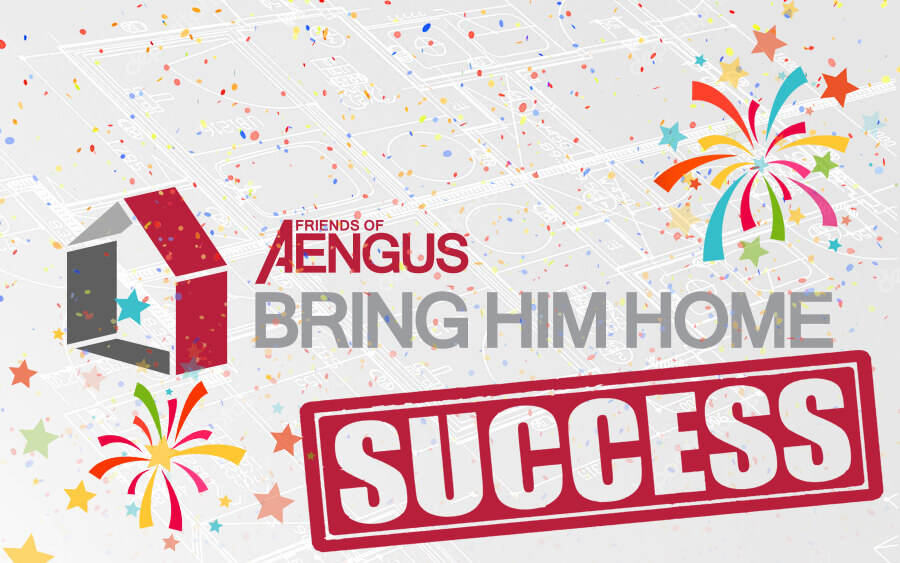 #BringHimHome – Campaign Target Achieved
You did it! €50,000.00 raised and counting. The response and generosity is truly overwhelming.
Since it's launch in late August 2018 the #BringHimHome campaign has grown from strength to strength. From individual donations both online and offline to people, companies, groups and committees taking the initiative to plan and organise events in aid of our friend Aengus the #BringHimHome campaign has been a huge successful.
Thank you for liking. Thank you for sharing. Thank you for donating.
– Friends of Aengus
Campaign Highlights
A look back at the success of each and every #BringHimHome event from August 2018 to now. We could not have done it without everyone's contributions. To all organisers, planners, collectors, volunteers, contributors, Facebook & Twitter followers… we say Thank You for everything you've done and everything we've achieved together.
Charity Cycle, August 24rd 2018
The campaign opening event, a cycle spanning 650km over 3 days starting from Mizen Head, Co. Cork finishing in Malin Head, Co. Donegal.
24th Three Counties Tour, September 1st 2018
The Innisfree Wheelers raised a whopping €3,000.00 and presented Aengus with a equally whopping  sized cheque.
Sligo Squash Club – Fun Night, September 13th, 2018
Sligo Squash Club hosted a 'Fun Night' at the tennis club – all proceeds raised kindly donated to our cause.
Bank of Ireland Coffee Morning, September 28th 2018
Bank of Ireland Sligo kindly allowed Friends of Aengus to hold a very successful coffee morning raising €754! Thank you to the bank's Sligo branch and their great team, our volunteers and everyone who stopped by to donate and enjoy the delicious refreshments.
Knocknarea Challenge, 29th September 2018
Not just a regular hike! Friends of Aengus took turns carrying a symbolic 'Home' structure, the equivalent weight of Aengus to the top of Knocknarea. The structure was designed & built by friend, Thomas Coggins.
Bit O'Red Supporters Trust – Charity Poker Night, 28th October 2018
The Bit O'Red Supporters Trust held a charity poker night a huge €500.00 and very kindly decided to donate the proceeds from the successful card night to the FOA #BringHimHome Campaign.
Penneys Sligo, Halloween Fancy Dress, 31st October 2018
Management & staff of Penneys, Sligo kindly donated the proceeds of their Halloween Fancy Dress party to the FOA #BringHimHome Campaign.
Charity Donation, 5th December, 2018
One Stop MotorShop kindly donated €1,000.00 as part of their annual Christmas charity donation.
Charity Auction Night, 7th December 2018
A overwhelming €10,219.00 was raised in The Corner House Bar, Riverstown, Sligo.
Kilgannon School of Speech & Drama – Collection, 7th January 2018
Aoife Kilgannon School of Speech & Drama kindly collected and donated €415.
Table Quiz, 18th January 2019
Great determination and charity shown by North Sligo Athletic Club and their supporters raising a massive €2,300.00.
@SligoStats Poster, 15th January 2019
An incredibly €3,318.00 raised by hilariously talented people @SligoStats and their wonderful poster.
Table Quiz, 22nd February 2019
Castle Dargan Ladies Golf Club are hosting a Quiz night on Friday 22nd February in association with FOA. Check here for details on attending.
Campaign Gallery
Online Donations
We have reached our goal on this occasion, but the hard work must continue. Our Go Fund Me page will remain online and open to new donations. If you can, please contribute. Donations big or small all add up and are greatly appreciated.