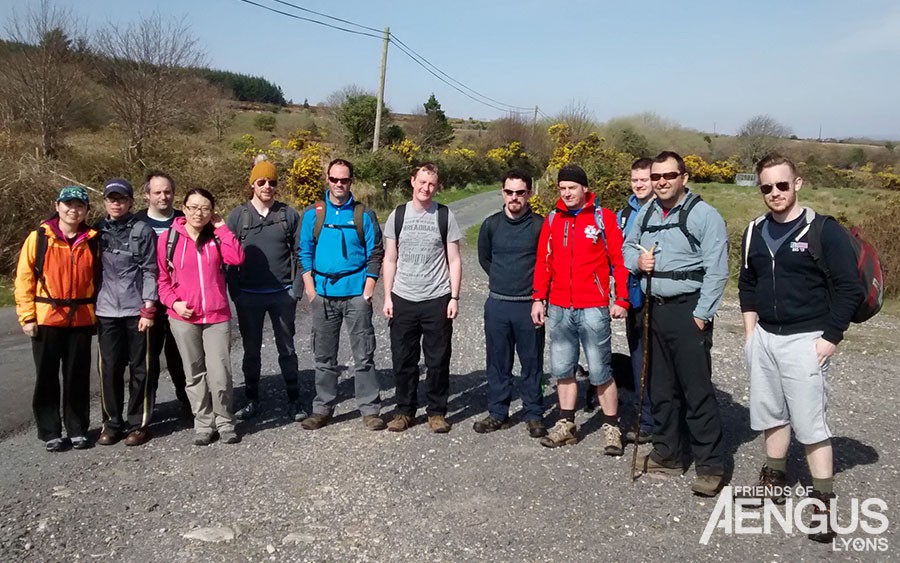 Our battle begins on a glorious spring Sunday, late April. The battalion convened in Lahardaun, County Mayo. Lahardaun is a sleepy village noted for helping General Humbert during the 1798 uprising, catching the British forces off-guard by leading the rebellion through the glorious Windy Gap.
The opponent this time was less mobile, but in now-way less daunting than that faced by our ancestors. Nephin, roughly translated as heavenly, resides in the parish of Addergoole and Crossmolina and its' significance dates back to mentions in early Irish literature, the Mayo Táin (Táin Bó Flidhais). Nephin appears to have been hit by a meteor of sorts and has a huge crevice that provides two distinct route options for assent.
The assent began with a short introduction and safety check from our battalion leader Jonathon, who had faced and conquered our foe many times previously. Initial terrain was soft, boggy and had a reasonable incline, but our spirits were high and our will was strong.
Thirty minutes of jumping over bog holes and debating tuffets of grass presented us with a route decision. At this point we had to decide which side of Nephin to continue. With guidance, but through consensus we agreed the left side of Nephin was most appropriate, particularly as that was the side we were on!
After a short water and snack break, we began to tackle the next part of Nephin, moving into a steeper incline. At this stage the sun was beginning to reach its' apex so protection was distributed for the fairer skinned comrades by Lieutenant Melvin.
The next 90 minutes or so were a mix of 'heads down' trolling through soft terrain and steep assents through rocky hills. At times our Battalion stopped, with comrades offering a helping hand, hydration and words of encouragement.
The final part of our foe was certainly less daunting, the incline reduced and our group reached the summit in jovial form.
We shared a moment to reflect on why we all took on this challenge, our friend Aengus. A sort of collective catharsis, to attempt to overcome a mountain, almost symbolic of the struggle our friend has and is currently overcoming.
Meanwhile, some of our elites contemplate their next foe, Snowden.
---