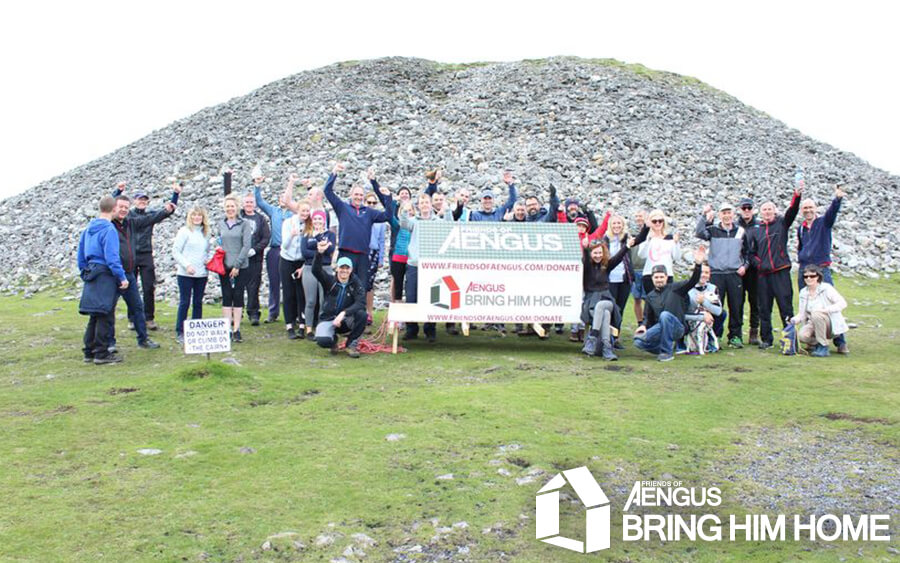 Knocknarea Challenge Complete
On a bright September morning  last Saturday 40 people gathered in Knocknarea mountain car park. Their purpose of the Knocknarea challenge was to carry a 80KG rig up to Queen Maeve's grave. 80KG represents Aengus Lyons weight. Aengus had a serious accident playing Indoor Soccer over 4 years ago and now requires 24 hour care. The money raised will go towards adapting his home in Ballygawley to meet his needs. This was the latest event in the Bring Him Home campaign.
Refreshments of fruit, water and trail snacks were provided by Lidl and Tesco for the climbers and carriers. After a brief manual handling safety briefing the challenge commenced. The 8 berths on the 6 foot wide rig were rotated as the symbolic  house was carried  up the  mountain. The pace was slow and steady as the group negotiated the difficult terrain. Teamwork was to the fore as 3 rotations of carriers shared the burden on the 8 berth rig. Ongoing communication between the carriers warned of obstacles and tricky underfoot conditions as a cordial atmosphere prevailed on the 45-minute ascent to the cairn. Those present were rewarded with panoramic views of 5 counties on reaching the summit.
After a round of photos the descent began, strategically placed anchor ropes ensured safe passage over some on the stepper drops on the mountain. Curious tourists and hikers alike politely made way and donated generously using the buckets provided. After an hour-long descent, the group arrived back down to the car park.
At time of writing over €24,000 of the €50,000 target has been raised. We are very grateful of the support to date and look forward to other upcoming events.
If you would like to donate to this great cause please do so at www.friendsofaengus.com/donate
---