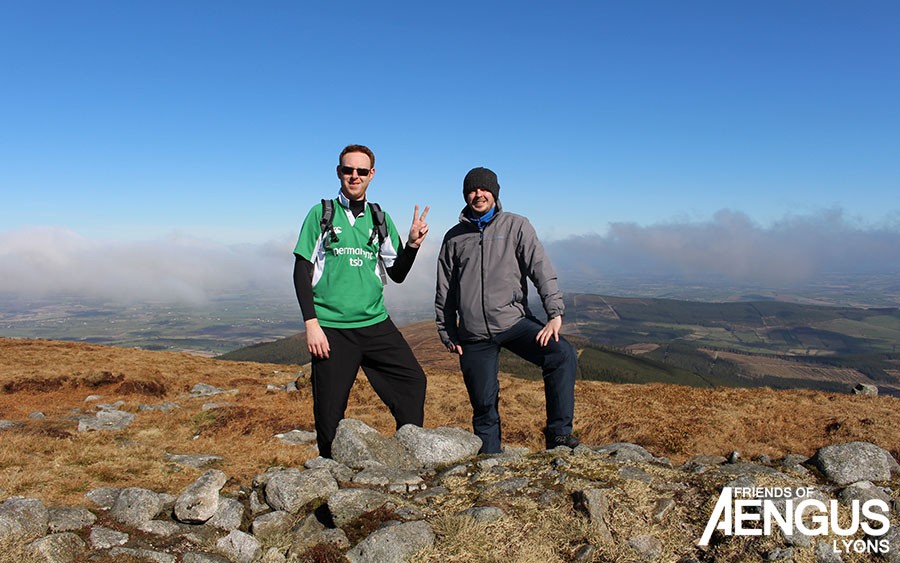 Mount Leinster and Slievebawn
Not all of us could join those in the Northwest for the first Snowdon training hike, and for the two that couldn't – the hills of Carlow and Wexford lay in wait with Mount Leinster being the objective. We couldn't have picked a better day for it. The sun shined, the odd cloud speckled the blue sky and there was a brisk chill in the air. We set off from the world famous 'Nine Stones', Carlow's very own Stonehenge – a sight to behold in itself.
From here an access road leads to the top of the mountain. While the ground under our feet was smooth we soon began to feel the climb as it began to get steeper and steeper. Thankfully we came prepared and as we ascended we took regular water breaks which also allowed us to get our breadths back as well as admire the beautiful south eastern countryside. Soon we reached the pinnacle of the mountain where we were confronted with an RTE transmitting station but we didn't let this spoil the amazing views of the surrounding Blackstairs Mountains. We could see the Irish Sea in the distance and rumour has it that on a clear day it's possible to see the very mountain we're all in training for, Snowdon! It took us approximately an hour from bottom to top and whilst we had a strict schedule in order to catch the six nations finale, we looked at the nearby Slievebawn and decided we'd give that a try too.
We managed to get up and down the far side of Slievebawn, as well back up and down the side we came up in another two hours and along the way we were greeted with a few hang gliders who were also out to make the most of the good weather.
Thankfully we made it home just in time for the big kick off and we were very happy we did. Now we're looking forward to Snowdon in May, and who knows, if it's a clear day maybe we might just see Mount Leinster 🙂