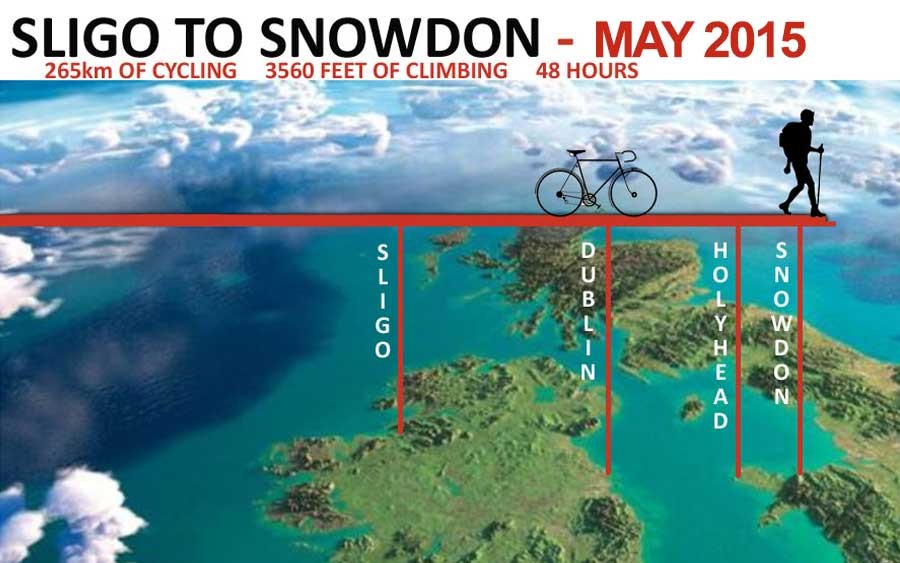 Sligo to Snowdon Challenge
265 KM of Cycling – 3560 Feet of Climbing – 48 Hours
On the morning of the 8th of May 2015, friends of Aengus will set off from Sligo on an epic journey across Ireland by bicycle en route to Mt. Snowdon in Wales. They will catch the ferry across the Irish Sea and will continue the cycle from Holyhead to Llanbris at the foot of Mt. Snowdon where they will meet up with the main group to complete the Mt. Snowdon leg of the Twin Peak Challenge.
The first leg of the cycle from Sligo to Dublin is expected to take 10 hours including necessary food stops and the second leg from Holyhead ferry terminal to Llanbris is expected to take 4 hours.  If you are interested in joining the group to complete the cycle or to provide support along the way, please feel free to contact cosgroveterence@gmail.com or rkilfeather@gmail.com for more details.
All travel information on the trip to Wales can be found here.