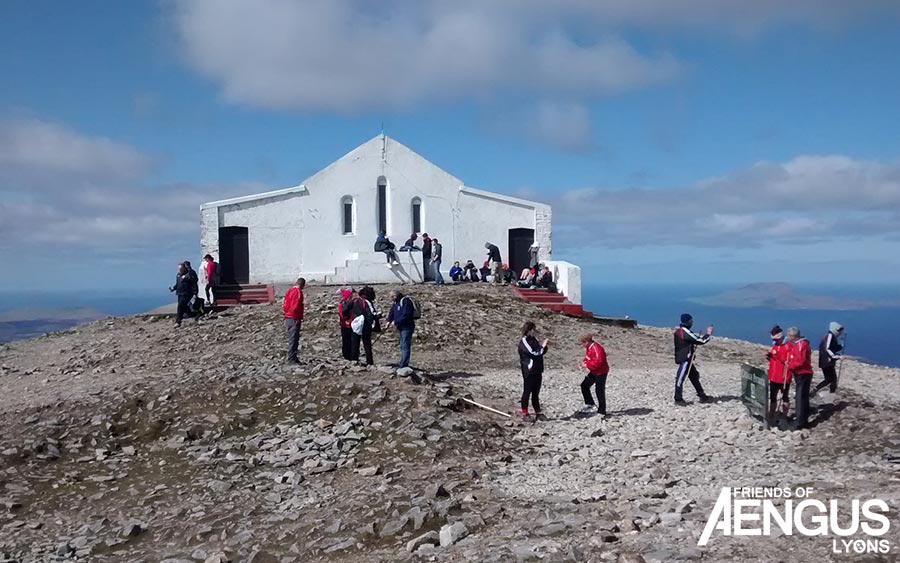 Training at Croagh Patrick
On Saturday 25th April, I went from "Its too wet, I'm not going" at 7.30 am to having the car parked at the bottom of the Reek at 9.45 am.
The intervening period between those times included getting convinced to go, making sandwiches and driving the 40+ miles to Westport.
I took off up on my journey, wishing Saint Patrick a good morning. It was fairly quite on the climb, a few groups of 2's and 3's. Everybody had a "hello" or a "lovely morning" for each other as they walked past. Doing the walk alone, these were nice to hear!
It had rained the night before so parts of the climb were a bit slippy. The further up I got, it started to dry and a wind picked up. Further up again, the wind died down and it became very warm. So, even before i reached the summit (where it was baltic) the weather had been very changeable.
I had the appropriate gear for all conditions, so I felt I would be ok. What amazed me though was the amount of people in shorts, tracksuits, runners etc. The best one was this aul fella (70'ish) who had his wellingtons on, his cap tipped and jacket under his arm. He looked more like he was ready for a day at the mart. He was surround by a few younger members, who were in their late 20's/early 30's, all suited in the latest hiking gear. God bless him,  he took up to the top like it was a stroll in the park, and had reached the summit before the rest of his group!
The last leg of the climb was a bit of a struggle as people were trying to pass on what little of a path was there so it was very stop-start and rocks started to go from under foot anywhere that wasn't part of the "path".
At the summit, it was all worth it. The views were out of this world, as some of the photo's will testify to.
While the ascent was quite tough but manageable, the descent was quite tricky and slipped quite early on. There were a few slippy moments a little further down, but all in all it was very enjoyable!
I'll end on this (and I'm sure it applies to the volunteers), but the donations, the well wishes and the genuine interest from people in Aengus, his condition and this fundraising event has been amazing.
Go raibh mile maith agaibh go leir
Mairtin
---