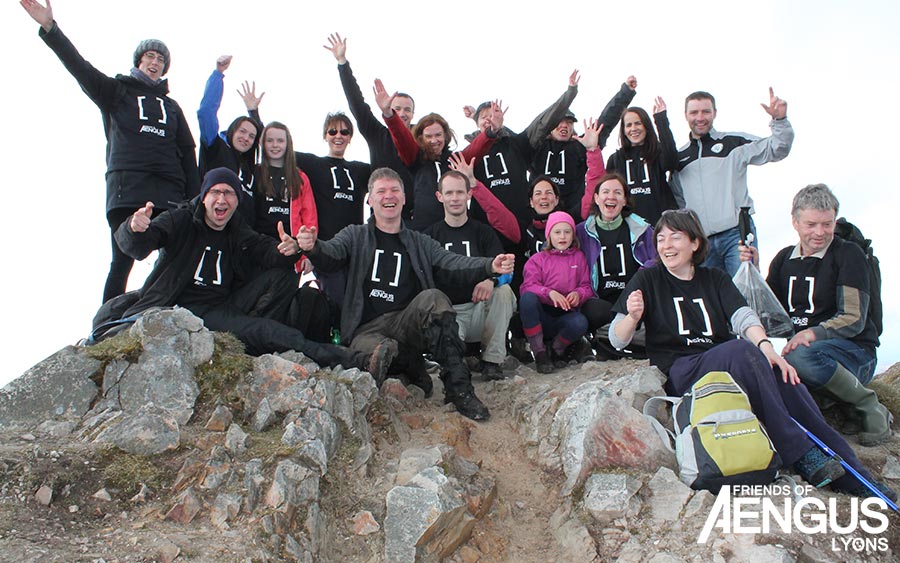 Clear Blue Skies Over Mt. Errigal
At 12.00 noon on Saturday, May 9th the 20 climbing cousins met at the foot of Errigal. Clear blue skies had greeted us – a huge relief from the rain that poured all day Friday. This group are linked through Aengus' Mam Caitlin, her siblings Séamus, Síle, Eddie, Nóra, John, Annie and their children – the cousins. Many of us had not met in decades. The years melted away. Childhood memories returned, the craic and the climb began.
It was an absolute joy to reconnect with this group through the shared goal of supporting Aengus. We each have various levels of fitness and strength and paced ourselves accordingly. Every man, woman and child who had committed to the climb reached the top – Barr na h-Earagaile. Everybody managed the strenuous, sometimes dangerous descent and arrived safely back at base in time for a cup of tea at Auntie Síle's in Dún Lúiche. There were three generations of Clan Ó Duibhir at Síle's on Saturday afternoon.  It was a really special gathering.
Right now we estimate that this group has generated approximately €17,000 for Aengus.
---