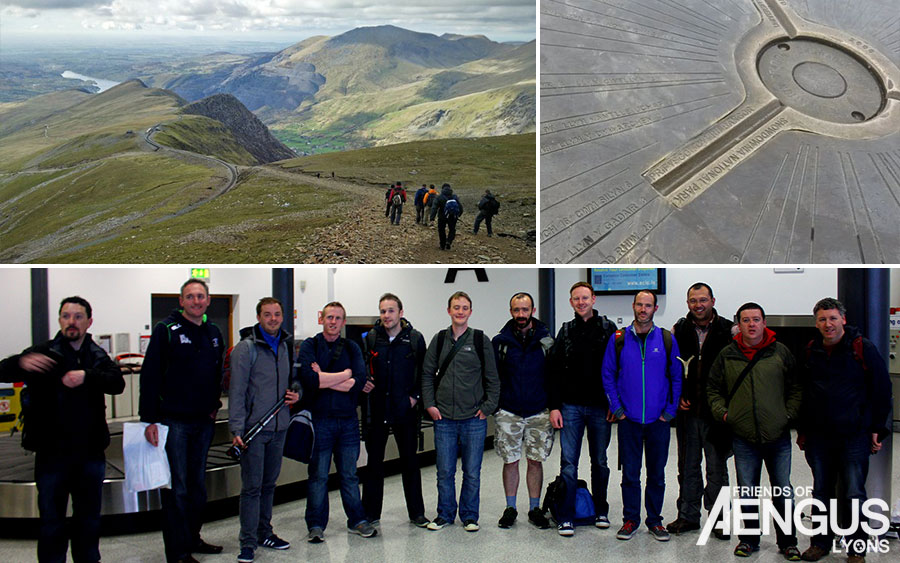 After all the anticipation and preparation for the Mount Snowdon Challenge, the big weekend was finally upon us.
The Snowdon Challengers were made up of two groups, a tough bunch of hikers, and an even tougher bunch of cyclist-hikers! So whilst the aforementioned hikers "enjoyed" a day of commuting and working on Friday 8th May, the cyclists got up at first light and set off on their epic journey from Sligo to Dublin. What started out a pleasant morning soon turned into a grey, wet day, but these lads are made of sturdy stuff, and 10 hours and 210km later, they were boarding their ferry in Dublin and enjoying a well earned rest before the next leg of their challenge.
On Saturday morning, our cyclists set out again, this time from Holyhead to Llanberis, where they met up with the hiking group who had sailed from Dublin that morning. Everyone gathered at our hostel – Bryn Du Mountain Centre in Llanberis – a lovely setting at the base of Snowdon. We divided into smaller groups for the hike and set off into the unknown – for we could only see part of the mountain as fog had settled. After a steep first few hundred metres, the terrain became much more doable; although catching sight of two ambulances on their way down made us anxious of what lay ahead! Thankfully we needn't have worried, it was a beautiful climb, the fog cleared in patches and we had wonderful views across mountains and valleys. We met lots of other hikers, had some interest in our Friends of Aengus t-shirts – and even some welcome donations on the mountain!
Now it must be noted that the cyclists began their hike slightly later than the hiking only group, proceeded to pass us on the way up the mountain and were on their way back down before we even reached the summit – did I mention that these lads were made of sturdy stuff? That 210km warm up on the bikes must have really helped!
On the way up, we stopped to enjoy some of the stunning scenery, and admired the attractions on the mountain such as the fabulous steam train which wound a path across the range, and some gorgeous lakes nestled in the shallow valleys. We even came across a café on the mountain, and a few of us were grateful for a hot cuppa.
When our hiking only group reached the top, we were actually engulfed in fog, as you can see in the photos. The lack of view from the top didn't dampen the spirits, and a wee schnifter of whiskey was passed around, to ease the journey back to base. We weren't long making the descent, and now that the taste was upon us, we headed out for the evening for a well-earned dinner and sampled some local craft beer.
All in all, a wonderful experience with some old friends and some new friends, all for the benefit of a mutual dear friend; here's to Aengus and his recuperation.
– Damien
Snowdon Hikers and Cyclists:
Stephen Marron, Peter Murphy, Mairtin Conneely, Damien Barrett, Brian Basquille, David Kenny, Niall Rooney, Eric Barrett, Shane Rooney, Mark Devereux, John Forde, Jamie Rooney, Richard Kilfeather, Terence Cosgrove, Declan Sheridan, Ross McLynn, Jim Fitzpatrick, Thomas Coggins.
---